Baby Gift

Need the Perfect Baby Gift for new parents? Consider this lovely devotional calendar as a baby shower gift.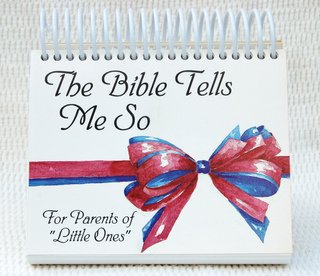 The Bible Tells Me So
For Parents of "Little Ones"
The Perfect Baby Gift
for new parents.
Designed by Sharon Chatwell
$6.99
Free Shipping!

The Bible Tells Me So is a help and an encouragement to new parents.
Starts on the day of the baby's birth
Scriptures related to parenting for every day of baby's first year
STURDY design with a durable built-in stand 
Note pages every four weeks to record how the baby is doing  (...and what the Lord has been teaching the parents!)
500 verses from the NIV, with a few familiar verses from the KJV
Perpetual calendar that can be used year after year
Great keepsake for baby's first year!
Excellent Baby Shower gift!
Sold ONLY here at Sunday School Center!
---
Baby Gift Ideas: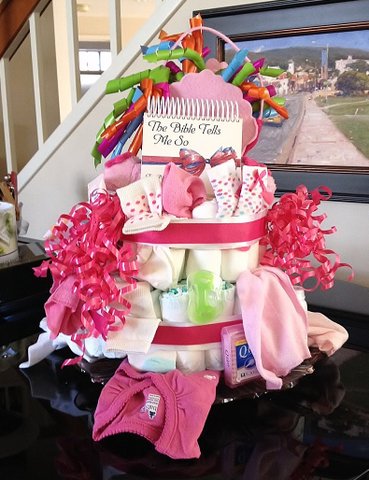 Makes a great gift for...
new parents
soon-to-be parents


...And can be given by anyone...
grandparents
Sunday School teachers
friends
nursery workers
women's ministry team members
high school teachers

Someone used their copy to help create a Joyful Diaper Cake! 
We hope this photo gives you some fun ideas.
---
Other Views...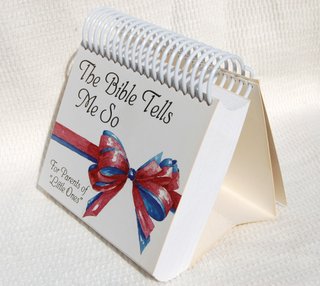 Sturdy Design
The built-in stand will last for years!
Keep it where you'll see it often!
(Maybe near the changing table!)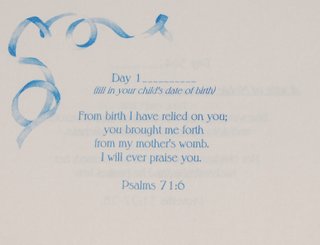 Day 1
Fill in your baby's birth date and you're ready to start!
From birth I have relied on you; you brought me forth from my mother's womb. I will ever praise you.
Psalm 71:6 (NIV)
Daily Encouragement
Children are a blessing from God.
But once we have them... What do we do next?
Gain daily wisdom from God's Word for parenting your child!
Day 365
The end of baby's first year! Time to celebrate!
Now, turn over the page and start your study of God's Word all over again!
Train up a child in the way he should go: and when he is old he will not depart from it.
Proverbs 22:6 (KJV)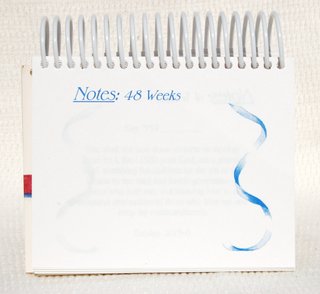 NOTES
Every 4 weeks write a Note about how the baby is doing... and about how YOU are doing! These will help you remember the first year... especially since it passes so quickly! 
Notes help personalize your copy of The Bible Tells Me So, making it even more special to the new parent!
---
How To Purchase:
Click "Add to Cart" and choose number of copies. Payment options include Credit, Debit, or Paypal. $6.99 with Free Shipping. *
(Bulk orders available. Contact Us.)
Shipping Info, Mailing Dates, and other FAQ
*We only ship to the continental United States
---
On a Personal Note...
Just after our daughter, Anna, was born, God gave me the idea for these little books. I remember being in my hospital room when this verse came to me: "From birth I have relied on you; you brought me forth from my mother's womb. I will ever praise you." Psalms 71:6.  
"Wouldn't it be nice," I thought, "if you had a Bible verse for each day of the baby's first year?" All of a sudden it hit me! "That's a great idea!  We could write a little book and put a verse in it for every day of the baby's first year!"  That's how this all got started.
So, in my spare time over the next couple of years, I chose all the verses, organized them so that they follow the baby's development through the first year, and made them into this little calendar. Then we started Calvert Place Publishing and printed them up!
Since then, I have sold lots and lots of them... and given many more away to friends and family as presents! They make great baby gifts! 
Women's groups sometimes give them to the new moms at church!
I hope you will like your copy and that you will find someone wonderful to share it with. In Isaiah 55:11, God assures us that His Word will not return to Him empty.
With Love in Christ, 
Sharon
Return to The Store