Group 2014 VBS
(Weekend)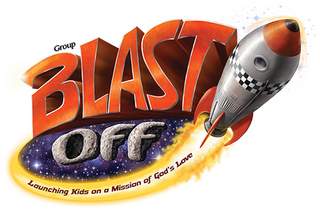 See a review of the weekend Group 2014 VBS theme, Blast Off!

Our Review:
Group's Weekend VBS "Blast Off!" is a perfect alternative to 5-day VBS programs.  
This dynamic VBS Theme utilizes two 2.5 hour sessions and one hour-long Sunday Celebration all on the same weekend!  
If your group is looking for a different way to do VBS, Blast Off! may be just what you need!  
Group does an EXCELLENT job of presenting the Gospel in this down to earth VBS that is out of this world!
In each session the children focus on the main Bible Point that: God loves us, so... love each other!
The Opening has a funny skit (live or video) with Reggie the Astronaut, followed by great praise songs, with easy actions that are fun to learn.
The lessons are arranged around Bible Adventures, and always involve the kids in the telling of the Bible Stories.  This ensures a fun "hands on" component in the storytelling.
And Blast Off! is easy to prepare. No prior study is required for the Crew Leaders, who lead the small, multi-age groups of children from one station to another. Station Leaders organize and instruct the children at Games and Bible Adventures.
There is no crafts station as such, but in Projects with a Purpose, the kids will have an opportunity to make practical gifts to give away to folks in their home, church, or community; teaching the children to share God's Love with others!
No matter what size church you have (or even if you are a new church plant) I can see Blast Off! being a great option for you to use in evangelical outreach to your neighborhood and community.
Find and compare prices for the "Blast Off! VBS Starter Kit" at places like: ChristianBooks.com, FamilyChristian.com, and others.

About Themselves:
"Countdown to the funnest weekend in the universe! As kids explore God's infinite love, they'll practice down-to-earth ways to love each other.
Group's Weekend VBS™ is the 3-day VBS designed for churches that are new, are considering skipping VBS, or simply can't get enough vacation Bible school."
VBS MOTTO: "God loves us, so...love each other!"
VBS SCRIPTURE: 1 John 4:7 - "Let us continue to love one another." 
MSRP: $67.99 – starter kit
PROGRAM LENGTH: This VBS is run as a 3-day weekend program, with two 2.5 hour sessions and one hour-long Sunday Celebration
AGE RANGE: This program is for Preschool through Grade 6
SCRIPTURE TRANSLATION: New Living Translation
MISSIONS PROJECT: Projects-with-a-Purpose – Kids make gifts to give away to others in the area
SOCIAL MEDIA PAGES: Facebook
NOTES: Each leader preps only 20 minutes of daily material.
A single Bible Point is reinforced daily at every station.
The groups are small (5-member) and multi-age.
Daily Lessons:
Day 1:  God loves us, so...love each other!
Passage: 

Men bring their friend to Jesus for healing. (Luke 5:17-26)

Day 2: God loves us, so...love each other!
Passage: 

Jesus dies and comes back to life. (Matthew 27:11–28:20)



~
Visit the Weekend Group 2014 VBS official website page: BLAST OFF
---
Back to top - Group 2014 VBS Theme (Weekend)
Return to Main VBS Themes Page