Childrens Bible Lessons:

Sunday School Lessons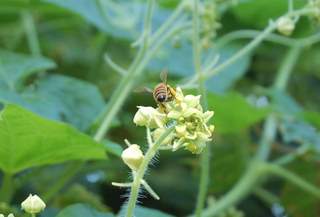 Download and print free Childrens Bible Lessons for Sunday School or Children's Church. Elementary age children and their teachers will love these solid, Bible-based lessons with fun activities and games.
As an elementary age teacher you are busy as a bee! (Perhaps as busy as the bee in this photo!) Remember that your job as a Sunday School teacher is as important as any bee's... and just as necessary!
Children need to learn about God and about His love for us shown through Jesus Christ our Lord and Savior!
---
Childrens Bible Lessons
My own  elementary age lessons (for children ages 7-12) are not available yet. I am working on them and hope to release some of them soon. 
If you would like to be notified by email when these lessons are ready, please write to me via the Contact Us page and let me know. (Be sure to write in "Children's Bible Lessons" in the comment section! Thanks!!)
In the meantime, let me refer you to some other excellent resources for children this age!
---
Other Ministries...
These folks have wonderful Sunday School lessons for kids that are Bible-based and Christ-honoring. Their lessons are free for you to download and use in your ministry.
I highly recommend their resources for your elementary age classes.
In addition to free lessons, Ministry-to-Children offers many other free materials; including activity coloring pages. 
Although their title says "sermons" this site actually has excellent lessons for elementary aged children. The site is searchable for lessons based on their Scripture References and their content. You will find lots of lessons from both the New and the Old Testaments.
All of their resources are free to download! And they have a large array of activities, including coloring pages and word games for their lessons.
I recommend these resources for anyone wanting to find great Bible-based lessons for their elementary classrooms!
The folks from ShareFaith Kids have allowed me to share links to their free resources with my website visitors. They offer 4 free lessons: 
Their materials are outstanding, with Bible-based lessons, including PowerPoint and Videos for each lesson, as well as tons of activity pages.
NOTE: If you want to download more than 4 of their lessons, then you will need to pay an annual membership fee. 
ShareFaith Kids also provides other free resources, such as this article:
Give them a try, I think you might like their resources!
---
Lessons For Other Ages...
If you are looking for free Sunday School lessons for other age groups, (preschool or teenagers), you can find my free lessons for them right here!
Preschool Bible Lessons (ages 4-7)
Youth Bible Lessons (ages 12-18)
---
On a Personal Note...
Thank you for visiting my Childrens Bible Lessons page. Even though it currently offers no lessons of my own, I feel confident in directing you to these other sites. 
I hope to have my own Sunday School lessons for Children available soon. I appreciate your patience!
Until then, I pray that these lessons and the various resources offered at these other websites will be of help to you.
God bless you for ministering to children this age!
With love,
Sharon
Back to Top - Childrens Bible Lessons