Youth Group Games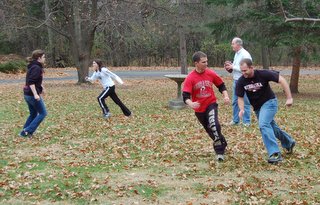 Exciting Youth Group Games for indoors and outdoors. Find Games for Teens at Church, Sunday School, and Camp!
No matter who you are or what you are doing, if you're in ministry with Teens, you're going to need some Games! These Youth Games are all field-tested (probably in a field) and lots of fun!
Many thanks to my son, David Chatwell, for helping write up and organize these games.  David is trained as a Youth Pastor and is great at working with teens.  He assures me that these games are some of his favorites!
You can see David in this photo, trying to give his brother the slip during a pick-up game of football with the family.  (Run, David! Run!)
And be sure to scroll down and read "How to Make Games More FUN!" 
Youth Group Games
Indoor Games
Outdoor Games
---

How to Make Games More Fun...

Youth Group Games?  I recommend these notes by Dr. Les Christie!
Advice on Playing Any Game...
Explain the game quickly and clearly.

Make sure you have played the game or have seen it played.

Demonstrate the game if possible.

Explain the game with excitement or enthusiasm.

Put students in the game playing position before playing the game.

Safety is crucial. 

Get referees that are fun.

If at all possible, have kids lead the game.

Include the physically challenged kids.

Don't force participation

If games will be messy, tell people to "Dress for the Mess."

Stop a game at its peak. Kids remember the last ten seconds of a game.
---

A Great Resource for MORE Games...
Find Lots of GREAT GAMES  PLUS... Advice on Playing Any Game!


"Best-Ever Games for Youth Ministry"
By Les Christie
---

Who is Les Christie?
Dr. Les Christie is the Chair of the Youth Ministry Department at Jessup University.  He has written many books on youth ministry, and is a recognized expert on games.
Again, you may want to check out his book:
"Best-Ever Games for Youth Ministry"
You also can see his YouTube videos from the
Youth Specialties is a Christian organization that helps youth workers all over the world via their annual conventions and the Internet. If you work with Youth, check out their website for wonderful resources and help!
---

On a personal note...
I hope you enjoy these Youth Group Games. They are the best ones we know about right now. We will be sure to add more as we discover them.
Again, I'd like to thank my son, David, for helping collect and organize these games. David is currently in ministry with youth and uses these games with them all the time.  They are, after all, some of his favorites.
By the way, please be very careful playing these or any other games. Safety must be your highest priority!  (I know... I know... I sound like a mom!)
Have Fun! And... Let the games begin!
With love in Christ,
Sharon
YOUTH GROUP GAMES - Back to TOP