Cokesbury 2014 VBS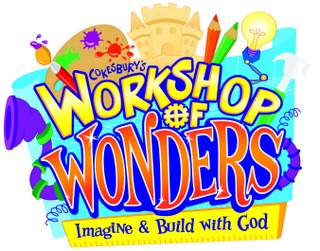 See a review of the Cokesbury 2014 VBS theme, Workshop of Wonders (WOW)

Our Review:
The Cokesbury 2014 VBS theme is Workshop of Wonders! (WOW)
At WOW, Cokesbury hopes that the kids will realize that they are capable of great things when they use their hearts, minds, and imaginations to follow the example of God... the one who works wonders!
Participants, called "Visioneers," are invited to discover how to imagine and to build with God, who transforms the ordinary into the extraordinary. The overarching theme is taken from Psalm 77:14a, "You are the God who works wonders."
This VBS inspires imagination.  Activities, crafts, and decorations are all geared to use readily available "ordinary" items to make "wonderful" things. 
Skits include a puppet called "Rivet the Ant." He reminds the children that "something small can be very important, because it holds things together." 
In addition to its ample printed materials, Cokesbury offers wonderful free online resources. These include: custom church websites, planning calendars, and registrations tools.
They even have tools for calculating the amounts of materials you will need for crafts and snacks! For example... You just pick the name of the snack, type in the number of kids participating, and it tells you how many packages of pudding (etc) to buy!  
There are 8 original songs and 2 special arrangements of popular Praise and Worship songs: "Your Grace is Enough" and "Beautiful Things."
Almost any size church would be able to put on this program. There are enough resources available for larger programs, while not overwhelming smaller ones with too many required items to purchase.
In the Cokesbury 2014 VBS - Workshop of Wonders the children will learn a new appreciation of the Lord and how He can work through our lives to do new things. 
Find and compare prices for the "World of Wonders - Starter Kit" at places like: ChristianBooks.com,  FamilyChristian.com, and others.
You can also find the "Super Starter Kit," the "Smaller Church Pak," and other related items at these retailers.

About Themselves:
"At WOW VBS, discover how the ordinary becomes extraordinary with God. Experience the love of Jesus. Start an adventure. Use your imagination and creativity to build your faith. Meet people from the Bible who used what they had to produce something amazing with God. Use your heart, mind, and imagination to participate in the creative life of God, the one who works wonders!"
VBS MOTTO: Imagine and Build with God
VBS SCRIPTURE: Psalm 77:14a - "You are the God who works wonders." 
MSRP: $89.99 – starter kit and outdoor banner
$149.99 - Super Starter Kit with Mega Media Pack & outdoor banner
$59.99 - Smaller Church Pak
PROGRAM LENGTH: 5 days
AGE RANGE: Preschool through Elementary, with additional materials for teens and adults
SCRIPTURE TRANSLATION: Common English Bible
NOTES: Incorporates two special arrangements of popular worship songs into their music, and in the songs, the kids will sing actual verses. Another neat thing is that this VBS has sign language demonstrations for the daily Vision Verse memory verses.
Daily Lessons:
Day 1:

  Imagine with God!


Passage: The Story of Esther (Book of Esther)
Vision Verse: Psalm 105:2 - "Sing to God; sing praises to the Lord; dwell on all his wondrous works!"

Day 2:

 Build with God!


Passage: Rebuilding the Lord's House (Ezra 3:8-13)
Vision Verse: Isaiah 64:8b - "We are the clay, and you are the potter. All of us are the works of your hand."

Day 3:

 Grow with God!


Passage: Parable of the Mustard Seed (Matthew 13:1-2, 31-32)
Vision Verse: 2 Peter 3:18 - "Grow in the grace and knowledge of our Lord and savior Jesus Christ."

Day 4:

 Work with God!


Passage: Feeding the 5,000 (John 6:1-13)
Vision Verse: John 5:17 - "Jesus replied, 'My Father is still working, and I am working too.'"

Day 5:

 Walk with God!


Passage: Walking to Emmaus (Luke 24:13-32)
Vision Verse: Romans 10:15b - "How beautiful are the feet of those who announce the good news."
~
Visit Cokesbury 2014 VBS official website: WORKSHOP OF WONDERS
---
Back to top - Cokesbury 2014 VBS Theme
Return to Main VBS Themes Page