Go Fish Guys 2014 VBS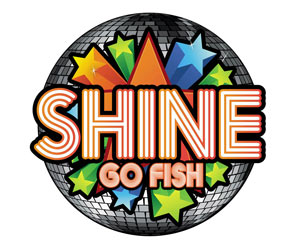 See a review of the Go Fish Guys 2014 VBS theme, Shine

Our Review:
The Go Fish Guys are at it again, bringing us their brand new VBS theme for 2014, Shine!
As they say in their promotional video, "A mirrored ball doesn't look very good in the dark (neither do we) but just add light and everything changes."  They also say that it all comes down to one question, "Are you a glory getter or a glory giver?"
The theme Shine encourages kids to shine for Jesus, in their lives. The kids will hear about the crowns in heaven that given to those who SHINE for Jesus here on earth, and learn about how to give God glory.  They will also learn that as they turn towards the Light (Jesus) they will begin to Shine!
The Go Fish Guys also try and help children understand that there is a real battle going on between good and evil in this world.  Their brand new video "superhero" helps them introduce the idea that we can all Shine right where we are, in our everyday lives.
Exciting music with "cool" motions is something that is consistent in every Go Fish Guys curriculum.  I loved the fun new rendition of the old hymn "I'll Fly Away" that is planned for Day 5.
Decorating ideas are easy and fairly inexpensive, using items purchased at local craft store for most things.  I really liked the idea of having an extra room with black lights, in which you place big stars that have been painted with fluorescent paint.  What fun!
The Go Fish Guys 2014 VBS theme Shine! is great for a down-to-earth presentation of the scriptures with an emphasis on life-application.
Go Fish!
Find and compare prices for the "SHINE VBS Complete Kit" at places like: ChristianBooks.com and others.

About Themselves:
"What happens when you combine bucket drums, mirror balls, superheroes, the Dove Award winning music of Go Fish, cutting edge videos, meaty Bible lessons, a gospel that is clearly presented, and tons of fun?  You get SHINE, the newest VBS curriculum from Go Fish Resources! ...Thematically focused on the heavenly crowns the Bible says will be given to those who shine for Jesus here on earth, SHINE's five sessions explore the crowns of victory, life, rejoicing, glory and righteousness."
VBS SCRIPTURES: Psalm 34:5 – "Those who look to HIM are radiant…"
Daniel 12:3 – "Those who are wise will SHINE as bright as the sky, and those who lead many to righteousness will SHINE like the stars forever."
MSRP: $199.99 – complete curriculum kit
PROGRAM LENGTH: Traditional 5 day program
AGE RANGE: This program is for Preschool and elementary
SCRIPTURE TRANSLATION: New Living Translation
MISSIONS PROJECT: 
SOCIAL PAGES: Facebook
Daily Lessons:
~
Visit the Go Fish Guys 2014 VBS official website page: SHINE
---
Back to top - Go Fish Guys 2014 VBS 
Return to Main VBS Themes Page