Gospel Light 2014 VBS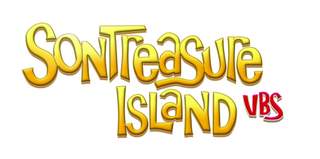 See a review of the Gospel Light 2014 VBS theme, SonTreasure Island

Our Review:
Gospel Light's VBS Theme for 2014 is Son Treasure Island. It has lot of fun tropical island themed ideas to help children discover the Richness of God's Love.  Together with shipwrecked Captain Cooky and his shipmates (a la Gilligan's Island), kids will learn that "God's Love is Treasure Forever."
All 5 of the daily lessons are based on verses found in 1 Corinthians 13 and teach the kids all about God's love for us.  True to their slogan of teaching "Jesus Every Day," Son Treasure Island also clearly presents the Gospel to the children every day.
All of the materials found in Gospel Light's "Deluxe Kit" and their separate "Reproducible Power Pack" are (of course) completely reproducible, making each of them an excellent value for what you get.  (The Deluxe Kit includes all of the reproducible materials in printed form.)
The Reproducible Power Pack (2 CDs) includes all of the information you will need to do VBS (including files for all the videos, music, art, and posters.) Make all the copies you want, or email necessary information directly to your various teachers.
Volunteers can also do teacher training online at Gospel Light's website dedicated to that purpose (at myvbsparty.com). Specially prepared videos help teachers understand exactly what they need to do be ready to lead their areas for VBS.
One of the things I love about this material is that the leaders' manuals are clear and concise, making them easy to follow.  The Crafts manual includes great craft ideas that are easy to do, with materials you may already have on hand. 
Gospel Light also has wonderful ideas for decorating, which include step by step instructions that are easy to follow and to do.  (For example: How to make your own Treasure Chest!)
For those churches who are interested in switching from a day VBS to a nighttime VBS, they have a plan available on how to set that up.  It's nicely done and easy to put in place.
If you don't have time for a full week of VBS, consider Gospel Light's NEW Weekend (3 Day) VBS plan, which is a compact version of the 5 day plan. Do it over a weekend, or almost anytime you choose!
As always, Gospel Light offers a dependable, Christ-centered curriculum that delivers good value materials with a variety of options, and ample support for those who choose it.  
All aboard for Son Treasure Island, the Gospel Light 2014 VBS Theme!
Find and compare prices for the "Son Treasure Island Deluxe Kit" at places like: ChristianBooks.com, FamilyChristian.com, and others.
You can also find the "Reproducible Power Pack CD-ROM/DVD-ROM" and the "SonTreasure Island Weekend Kit" at these retailers.

About Themselves:
SonTreasure Island - the Gospel Light 2014 VBS Theme
"Join us at SonTreasure Island VBS! There's treasure on this island. More precious than gold, more lasting than diamonds, it's the greatest treasure of all -- God's love! Each day your kids will learn how Jesus' life illustrates God's love as described in 1 Corinthians 13."
VBS MOTTO: 
VBS SCRIPTURE: 1 Corinthians 13:4-8
MSRP: $169.99 – deluxe kit
$99.99 – reproducible power pack
$89.99 – 3-day weekend VBS kit 
PROGRAM LENGTH: This VBS comes in the usual 5-day program, usable for either day or night-time. Also has a 3-day weekend VBS available for purchase
AGE RANGE: Ages 2 through 12
SCRIPTURE TRANSLATION: NIV
MISSIONS PROJECT: The One Million Children Project at Gospel Light Worldwide. It is a project for reaching children with age-appropriate Bible teaching to lead them to Jesus. 
SOCIAL PAGES: Pinterest
NOTES: All resources, including student materials, are printable, and the materials can be emailed to the volunteers. "If you're the church that never buys student pieces because of cost, this might be your best answer! All student pieces are printable from this disc!"
Daily Lessons:
Day 1: God's Love Is Giving




Passage: 

Matthew 1:18-25; 

3; 4:23-25; 

Luke 1:11-60; 

2:1-20
Focus: God's love is shown in Jesus
Memory Verse: 

1 John 4:9 - "This is how God showed his 

love among us: He sent his 

one and only Son into the 

world that we might live 

through him." 

Day 2: God's Love Is Kind




Passage: 

Matthew 9:18-26; 

Mark 5:21-43; 

Luke 8:40-56
Focus: God's love is kind and patient
Memory Verse: 

1 Corinthians 13:4 - 

"Love is patient, love is kind. It does not envy, it does not boast, it is not proud."

Day 3: God's Love Is Caring




Passage: 

John 4:1-42


Focus: God's love is for everyone
Memory Verse: 

1 Corinthians 13:5 - 

"[Love] is not rude, 

it is not self-seeking."

Day 4: God's Love Is Forgiving




Passage: 

Luke 19:1-10


Focus: God's love is forgiving
Memory Verse: 

1 Corinthians 13:5-6 - 

"[Love] is not easily 

angered, it keeps no record 

of wrongs. Love does not 

delight in evil but rejoices 

with the truth."

Day 5: God's Love Is Forever




Passage: 

Mark 14:27—16:20; 

Luke 22:47—24:53; 

John 21:15-17
Focus: God's love never fails
Memory Verse: 

1 Corinthians 13:7-8 - 

"[Love] always protects, 

always trusts, always 

hopes, always perseveres. 

Love never fails."
~
Visit the Gospel Light 2014 VBS official website page: SonTreasure Island
---
Back to top - Gospel Light 2014 VBS Theme
Return to Main VBS Themes Page