Musical
Standin' On The Mountain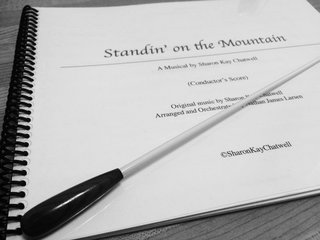 Standin' On The Mountain, is a new Christian musical being prepared for release to the general public. It is now ready for its first full-production. Book, Music and Lyrics by Sharon Kay Chatwell. © Sharon Kay Chatwell 2004, 2018. All rights reserved. 
Psalm 40:3 He put a new song in my mouth,
a hymn of praise to our God.
For over 30 years, I have been hearing these songs in my head. After I had most of the songs, God gave me the play to put them all together. That's how Standin' On The Mountain came to be!
Now the play is finished and ready for the next step! It's first production! I am currently seeking a large church or Christian university that would be interested in producing Standin' on the Mountain for the first time.
If you or your group are interested, please contact me! Thank you!
Psalm 96:1 Sing to the LORD a new song; 
Sing to the LORD, all the earth.
Please pray for us as we continue working on Standin' On The Mountain. I believe it will be a blessing to others, as it has been a blessing to me.

Preview of the Musical

Synopsis...
Standin' On The Mountain is a powerful story about a church in the future that experiences persecution and emerges as the Church Triumphant. The Pastor and Ruth Ann help a young woman named Sylva, who comes to saving faith in Christ and goes on to carry the message of the Gospel to others. Through it all, you see the heart and the humor of those involved, as the Church waits expectantly for the return of Christ.

Characters...
PASTOR
A faith-believing man, about 50.  The Pastor of First Church. 
Baritone, Soloist.
RUTH ANN
A jolly old soul with an attitude and a humble story to tell.
The Choir Director at First Church, about 50. 
Alto, Soloist.
SYLVA 
A young woman, seeking and finding.  Danehart's fiancée.  
Soprano, Soloist.
DANEHART                          
A young man, foolishly involved with an evil organization,  called "The People."  
Tenor, Soloist.
PERDU                                   
The quintessential deacon, and the Pastor's friend. 
Tenor, Soloist.
PREFECT                              
An older man. The local representative of "The People."   
WILSON SISTERS 
Two old church members, who finish each other's sentences.
CHORUS    
Other members of First Church.
SATB.

Details...
This is a 3-Act play for adults to do. Cast size of 8-16 persons. Run time is approximately 2 hours, plus Intermission. Scored for piano, drums, bass guitar and string quartet. All songs, underscoring, Overture & Finale are available. Minimum set and lighting requirements. 
More Info: Overview and Fact Sheet

Facebook Page...
See More Videos and Like & Share our FB Page:
 Or Message Us at:
Standin' on the Mountain - A Musical
Just the facts, ma'am.
30 years in the making
16 original songs
3 Acts - 1 Intermission
All for the glory of God!
Screening Video...
I hope you will enjoy this additional video of a private screening of several original songs from Standin' on the Mountain, which was done in 2015 at University of Nebraska, Lincoln.

Eight Songs Showcased...
You will see 8 different songs from the musical showcased here. Before each one there is a bit of information as to how it fits in with the story. 
If you would like to sample the songs, you can find their beginnings at these points.
(To hear the explanations, start a little before these points.)
00:20    Come to Jerusalem
05:30    Explanation of how these came to be written
11:45    Introduction of musicians and vocal artists
12:30    Be Our God
17:15    At His Feet (with the Perfume)
21:20    Solomon, He was a King
28:10    Toddle On Off to Jesus
31:30     I Am Just a Servant (in my Father's House)
35:45    Jesus of Gethsemane
40:00    Standin' On The Mountain
Click Here if you would like to download a PDF with the:
Synopsis of Play and Explanation of the Songs
Just Another Monday Morning
It's just another Monday morning at the Church Office and the ever-faithful Ruth Ann is shielding the Pastor from yet another call from the evil group known as "The People." From ACT 1, Scene 3 of Standin' on the Mountain. Copyright 2004, 2018 Sharon Kay Chatwell. All rights reserved.
The Wisdom of Solomon
Evangelism can happen anytime, even between dinner and dessert at the Church Picnic. Here the Pastor answers heartfelt questions from Sylva, a young woman searching for Christ. From ACT 1, Scene 5 of Standin' on the Mountain. Copyright 2004, 2018 Sharon Kay Chatwell. All rights reserved.

Contact Us
---
---

On a Personal Note...
As you may realize, this has been a long process.  God gave me these songs and the story and I've written them down as best I can.
I'm indebted to Mr. Nathan Larsen of Lincoln, Nebraska for arranging and orchestrating the music for me.  Thank you, Nathan!
I would also like to thank the musicians and vocal artists who recorded the music and some of the scenes. You will find all of their names listed in the credits at the end of the various videos.
And, of course, I want to thank my family and friends; especially my children and my husband, Rick, who have all believed in this project and encouraged me every step of the way. 
On a different note...
I have often asked myself, "Why me?" If God was going to give this music and the story to someone, why did He choose me? The answer, of course, is that I don't know. 
It occurs to me that if God can bring music to the world through me, He can do anything through anyone.
I believe the fact that He has used me is a great testimony to His power.
Whatever the reason, I appreciate it. These songs have encouraged and comforted me for many years. And now I hope that, by sharing them with others, they will encourage and comfort them as well.
With love in Christ,
Sharon